Everybody likes FREE STUFF! Even if you have already sent us your email info, we still want you to send it to us again. We are creating a separate list of our customers that are Vinyl nuts like us! Soon we will send you coupons and other cool Turntable goodies to help you feed your
Vinyl LUST!

Simply send us your email address and we will send you THESE valuable turntable tools for FREE!
(It's auto-respond, so you will get it immediately!)

If the email interface does not appear, please right click on the allow active x control bar above the Soundsclassic logo.

This is what you will get!
---
Use the Stroboscope to quickly check to see if your turntable is running at the correct speed and use the Tracking error guage to make sure that your cartridge and needle are properly aligned.
Simply download the files and print them out on your printer. Both files print out on standard 8.5"x 11" paper, cut them out and they are ready to use.
---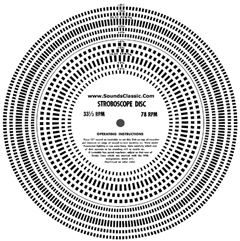 Stroboscope
---
Tracking Error Gauge
---

Check out the other Turntable accessories that we offer, like Needles, Belts, Cartridges, Brushes, Cleaners, Tone arm Balances, Interconnect wire and lots of other cool stuff to be listed soon!
Not all items are in stock at all times. New items arrive daily. All items are subject to prior sale. Some prices on certain items are negotiable as noted. Prices are subject to change without notice.
---

"Quality that is meant to last a Lifetime!" tm

*We specialize in previously enjoyed, preowned vintage stereo and high-end audio electronics!

It's our Passion!

We do vintage stereo restoration! We recone speakers and we buy, sell, trade and service fine quality preowned turntables and hi-fi audio electronics.

We warranty all sales and service for 90 days!


Buy from someone you can trust!
Buy from experienced technical service!
Buy from Soundsclassic.com, Its guaranteed!


---

Soundsclassic.com
a subsidiary of SoundsClassic and Video Lab, Inc.
4444 Center Terrace Rockford IL. 61108
Tel.815-398-0560
Hours: Closed on Mondays
Open Tue-Fri 10am-6pm & Sat 10am-3pm cst.

Our email address is: sales@soundsclassic.com
*We specialize in the restoration of previously enjoyed,
preowned vintage stereo hi-fi electronics!

It's our Passion!

We recone Speakers, we service Turntables and Reel-to-Reels,
we repair High-end Audio and Tube Electronics
and we sell parts and schematics.
Last updated -
12/10/12 MP
(c)(p) 2012 Soundsclassic.com
---
[ For Sale ] [ For Service ] [ About Us ] [ Home ]