Chicago Stereo Store
Chicago Hi Fi Systems Sales
Chicago Audio Service & Restoration

Chicago areas largest servicer of
Vintage Audio Electronics
---
Our main business at SoundsClassic and Video Lab, Inc.
has always been electronic service.
Our Stereo store stocks a huge inventory of specialized parts and service information and our expertise in the field of electronics repair and restoration is unsurpassed.
All items sold or serviced through our organization come with a 90 day warranty.
Click the 'For Sale Button' to see our Stereo sale items.
---

Soundsclassic.com is a division of SoundsClassic and
Video Lab, Inc. We have been servicing consumer electronics in the Chicago area since the 1970s.
Our stereo store keeps a large inventory of common and also hard to find vintage audio repair parts.
We have a staff of five full time service technicians, a parts manager, a shipping department as well as secretarial and sales staff.

"We are here to help you with your service needs!"

Store Location-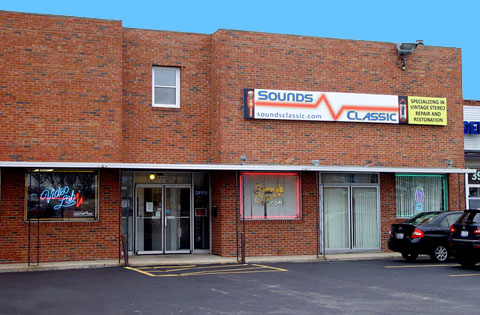 Our store is located at 4444 Center Terrace on the
corner of Alpine Road and Center Terrace, across
from the entrance to Colonial Village Mall in Rockford IL.
Aprox. 5 miles from the I-90 State Street Bypass and 80 miles from Downtown Chicago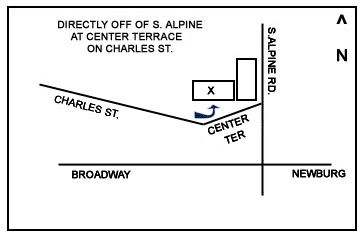 Our store hours are Tues-Fri 10:00am til 6:00pm and Sat. 10:00am til 3:00pm. We are closed on Sunday and Monday. Our phone number is 815-398-0560.
---

If you are interested in getting your audio or video
product serviced or have restoration done by us, an estimate fee of $40.00 is paid at the time the unit is
sent to us.
This estimate fee is applied to the final repair bill. We will contact you with an estimate prior to repairing your item.
All shipping and Insurance fees are the customers responsibility.

Please contact us ahead of time to make sure that we
will work on your particular item. We do not repair
Low-fi stereo! If it cost less than $200.00 it is
considered disposable and there are generally no parts available.
Many new "Made in China" electronics are disposable (please, don't waste your $money$ or our time!)

If you are looking for a particular part, please
include the following information-


Brand Name


Model and Serial number of which you need the part


Part description and Location or Part Number


Size and width, If Belt or Idler


If Turntable belt, measure circumference of platter drive area, where belt rides and width of pulley face.
The more information the better.

We look forward to helping you!

To Order Parts or Service (click here!)
---
Chicago areas largest servicer of Vintage Stereo Equipment!

*We specialize in the restoration of previously enjoyed,
pre-owned vintage stereo hi-fi audio systems!

It's our Passion!

We recone Speakers, we service Turntables and Reel-to-Reels,
we repair High-end Audio and Tube Electronics
and we sell parts and schematics.
---
Chicago areas largest servicer of
Vintage Hi Fi Systems!

Soundsclassic.com

a subsidiary of SoundsClassic and Video Lab, Inc.
4444 Center Terrace Rockford IL. 61108
Tel.815-398-0560
Hours: Closed on Mondays
Open Tue-Fri 10am-6pm & Sat 10am-3pm cst.
---
[ For sale ] [ Contact Us ] [ About Us ] [ Home ]